Same Day Flower Delivery
Same-day Auckland delivery Monday to Saturday. Closed Sunday except Mothers' Day. Please view the map below for the free delivery area.

• Order by midday Monday - Friday for same-day Auckland delivery.
• Order by 9am Saturday for same-day delivery. Closed Sunday.
• Order must include a bouquet of flowers.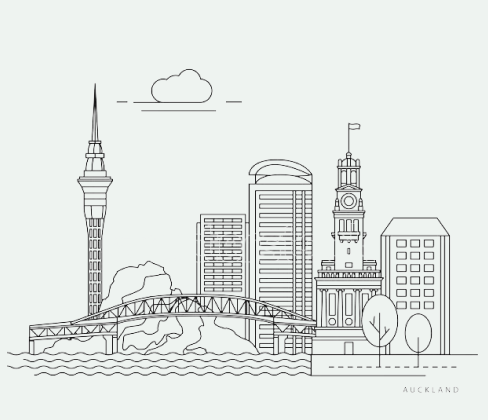 Free Auckland Delivery Area
The free area is roughly as far north as Albany, South as as Papakura/Takanini, East as Howick and West as Henderson.
Please see the map below for specific free delivery areas.

Expected Delivery Time
Within the free delivery area, expect delivery between 8am and 5pm.
For the outer Auckland regions where there is a delivery fee ($20 - $20), we expect your flowers will arrive between 2pm and 8pm.

Specified delivery time - "delivery at this specific time please"
Delivery time can be specified within the free Auckland region for $14.95. We can't guarantee the arrival down to the exact minute but can aim for a 1-2 hour window.
Not available during Valentines Day or Mothers Day or for North Island deliveries out-side of the free delivery Auckland area.

Delivery Fee for Outer Auckland Regions ($20 - $30)
Delivery to the outer Auckland regions is calculated at the checkout. Delivery to these zones is normally $20 - $30 for same-day, point to point delivery.
Outer Auckland regions that are outside our free region are displayed on the map below.
Free Auckland Delivery Area
The following map shows our free Auckland delivery zone.

A delivery fee applies for orders outside of our free zone, calculated at the checkout. Please not we do not offer specified delivery times for deliveries outside of our free zone. The free Auckland delivery area is approximately as far North as Albany, South as Papakura/Takanini, East as Howick and West as Henderson.
Give us a call if you're unsure, we'd love to help organise your order.
FAQ
Where is my order?
Our automated email system will update you once the order has been shipped and delivered. If you would prefer an instant update, please contact us Monday - Friday and we'll endeavour to update you on your delivery. 

Once your order is shipped and on the way to the recipient you'll be able to track the bouquet with the tracking code emailed on the day you would expect the bouquet to be received at Urgent Couriers. 
Same-day delivery
Available for all  Auckland orders placed before midday Monday to Friday or 9am Saturday. We send your flowers using only floral delivery companies who have experience with flowers. This ensures the most reliable delivery times and handling of your order. 
Business Addresses
To ensure your order is delivered to a business address before the recipient has left work we strongly advise placing your order before 8am to enable it to be sent on the first courier run.
Saturday Delivery
Auckland orders received by 9am Saturday are available for same day delivery. Orders placed after 9am will be sent out on a day of your choice. 
Sunday and Public Holidays
Specified Times
While we will do our best to get your order delivered for a specific time we can not guarantee your requested time (unless you negotiated first - an extra fee may be charged). Not available on Valentine's Day and Mothers Day.
Rural Auckland Delivery
No rural and Waiheke Deliveries available. Deliveries outside our free delivery area may incur a delivery fee that is calculated at the checkout.
Recipient "Not at Home"
If there is no one home the courier will leave your gift in a position that is obvious to the recipient, but out of view from the street.

Will the flowers include my personal message?
Yes! Place order and proceed to checkout where you will have the opportunity to specify your message and any special delivery instructions. 

Free Delivery Regions
The following Auckland regions are free delivery, order before mid-day for same-day Monday to Friday, or by 9am for same-day delivery on Saturday.
B
Balmoral
Bayswater
Beachaven
Belmont
Birkdale
Birkenhead
Blockhouse Bay
Botany Downs
Browns Bay
Bucklands Beach
C
Campbells Bay
Clendon
Cockle Bay
Conifer Grove
E
East Tamaki
Eden Tce
Ellerslie
Epsom
F
Flatbush
Forest Hill
Freemans Bay
G
Glen Eden
Glen Innes
Glenden
Glendowie
Glenfield
Grafton
Greenbay
Greenlane
Grey Lynn
H
Half Moon Bay
Henderson
Herne Bay
Highland Park
Hillcrest
Hillsborough
Howick

K
Kelston
Kingsland,
Kohimarama
M
Mangere
Meadowbank
Middlemore
Milford
Mirangi Bay
Manukau City
Manurewa
Massey
Mt Albert
Mt Eden
Mt Roskill
Mission Bay
S
Sandringham
St Heliers
St Johns
St Lukes
St Marys Bay
Sunnynook
Swanson
T
Takanini
Takapuna
Te Atatu
Te Papapa
Three Kings
Torbay
W
Waterview
Wattledowns
West Harbour
Western Springs
Westmere
Weymouth

Charged Delivery Zones
The following Auckland regions have a delivery fee of $20 - $30. They're generally away from Auckland central.
Albany rural
Beachlands
Brookby
Coatsville
Drury
Greenhithe
Herald Island
Hobsonville
Karaka
Kumeu
Muriwia
Haupai
Orewa
Pukekohe
Red Beach
Riverhead
Silverdale
Waimauku Township
Waiuku
Whangaparoa
Whenuapai
Clevedon
Dairy Flat

No Delivery Zones
Unfortunately we can't deliver to the following regions.
Titirangi
Laingholm
Whitford
Helensville
Waiwera
Clarks Beach
Huia
Parakai
Waimauku Rural